Everything is Energy…
Chakra is the Sanskrit word meaning "wheel" or "turning". Chakras are energy vortices that can be found supporting the human physical vessel. It has been my personal understanding from working with these vortices, and the teachings from spirit, that these energy centers support physical life from the non-physical or spiritual realms into the physical. These vortices when off balance, or not metabolizing fully, can create distortions in our reality. When a Chakra has been "out of balance" for some time it can and does lead to physical disease. All disease begins as an energetic imbalance which stem from something within your internal landscape needing attention. When we begin to work and honor these natural, organic systems within the body we truly begin to master our health and well being as well as evolve into higher consciousness.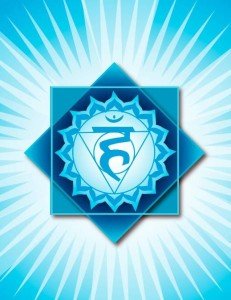 LOCATION: THROAT CENTER
ORGANS: THYROID AND PARATHYROID GLANDS, EARS
COLOR: BLUE/ TURQUIOSE
QUALITIES: SPEAKING ONE'S TRUTH, EXPRESSION OF ONE'S SOUL SONG, HIGH CREATIVITY, COMMUNICATION
Chakra 1 and 7 are the two chakras with only one aspect. Chakras 2-6 have two aspects to them. A front and back. The Third Chakra reflects and metabolizes the life energies of self worth, self-esteem, confidence and personal power. When we experience "imbalances" in these realms, it is our Soul's wisdom calling forth a time of growth. Instead of seeing these as imbalances see these as opportunities for transformation, for every physical plane imbalance, there is an aspect of our Soul ready to bring forth the wisdom, love and transformation. It is the exercising of our free will that calls this into being. It's all yours for the asking!
Honesty is the first chapter in the book of wisdom – Thomas Jefferson
INTEGRITY, HONESTY AND THE 5TH CHAKRA
The 5th Chakra is the second of the spiritual chakras and truly the first chakra to takes us fully to a spiritual plane. When we speak our higher truth and speak it with honor and integrity, our 5th chakra comes into its' full expression. It is through this full expression that we then begin to harness the will and vital life force that will assist us in the expression of our Soul's Song, or life purpose.
When we do not live from a place of Truth, Honor and Integrity, our 5th Chakra becomes weak, we lose energy as the vital life force leaks from a non-realized 5th chakra. If we are not living from our deepest and highest truth and speaking from that place, most likely we are living from others truth. This is not only detrimental to our own expression, but weakens us to the day to day activities of life and drains our willpower that we need to "harness" for higher spiritual pursuits.
Be Impeccable With Your Word. Speak with integrity. Say only what you mean. Avoid using the word to speak against yourself or to gossip about others. Use the power of your word in the direction of truth and love. ~ Miguel Angel Ruiz
QUESTIONS TO REFLECT ON YOUR INTEGRETY
Do you know the importance of personal integrity?
Can you stand and speak for what you believe no matter the opinion of others?
Can you sense it when another is lying or perhaps being untruthful?
Real integrity is doing the right thing, knowing that nobody's going to know whether you did it or not ~          Oprah Winfrey
SPIRITUAL EVOLUTION, WILL POWER AND THE 5TH CHAKRA
While often we think of will as something to overcome in our spiritual journey, which is true when speaking about lower will, Willpower is something that we need to harness to gain the strength, fortitude and conviction of our own beliefs in order to rise above the "white noise" of day to day life and reach for the higher calling of our Soul's Song. It is in the 5th chakra that we also begin to surrender personal will to that of higher will, or Divine will. When this begins to happen to an individual you will most likely feel the pressure in the throat center when these two wills come together and begin the dance of surrender. It takes a balanced, aligned will to make this happen and simultaneously surrender lower, personal will.
Invocation to begin the dance of the Wills within the 5th Chakra.
I'm now ready to experience the truth of my Divine Self! I call forth the dance of the Wills within my own Souls' journey. Knowing that it is My Divine Self that decides this, yet my conviction as a Human that more is possible! SO BE IT! … and so it is…
CREATIVITY AND THE 5TH CHAKRA
The Power of the Spoken Word!
In ancient Egypt it was only the chosen few whom were allowed to read and write. One of the reasons for this was they believed that when one spoke with conviction and belief, these uttered words would become manifest. This is a perfect example of higher creativity and the 5th chakra.
In our society today we still see the power of an orator who speaks and that shall be so! A great example is The Donald. Yes, Donald Trump, no matter what you think of him he is one who has this down to a science. Even before he became famous for the phrase "you're fired" he would speak with such conviction that those around him would automatically do his bidding. We might consider this a shadow example, but a great example non-the-less.
As we move from the Piscean age and into the Aquarian age every person now has the ability to access his/her true creative force and the ability to call forth the energies of creation that a few modeled for us in the days of old.
QUESTIONS TO PROBE CREATIVITY IN THE 5TH CHAKRA
Do you consider yourself to be creative?
Do you bring creativity to your day to day life?
Can you see where you might bring more creativity to your work?